The photo on the right by Izima Kaoru could be seen all over Paris at the beginning of this month since it was used as the main image to advertise Paris Photo 2004, the most important fair for photography. The photo is from the "Landscape with a corpse" series and it shows the J-pop singer UA killed by an arrow.
Kaoru first published the first parts of this series under the title "Serial Murders of Actresses" in his own fashion magazine "Zyappu".
"Each installment showed a few photos of a famous actress posed as a murdered corpse in various settings such as a river, beach, or park. A different actress (actors also) is featured each time. The murder victim is always wearing or using famous-brand fashion items. The photos are accompanied by a news article describing the scene of the imaginary murder and the victim."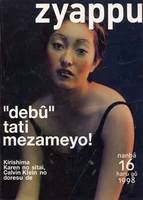 Zyappu magazine (1994-99) was unique among the Japanese fashion magazines since it was written completely in western letters. "Zyappu" actually refers to "Jap" a derogatory term for Japanese and Japanese-Americans and shows – like in his "Landscape with a corps" series – Izima's interest to give something negative a positive notion:
"There can be beauty even in things not usually considered beautiful." Can a corpse serve as a model for fashion photos? "Why not?" says Kaoru. Corpses are grotesque, but he says "They are beautiful." Corpses are gross, but he says "They are sexy." And he concludes, "Murder scenes are erotic."
[all quotes by Philbert Ono]
Interestingly there seems to be a difference between the perception of the work of Izima Kaoru in Japan and in the west. In Japan Kaoru is highly regarded as a commercial fashion photographer working for magazines and television, while in the west he is perceived and discussed as an artist whose work is exhibited in galleries and museums regularly while his other work is completely unknown.
PS: The CD "Ametora" by UA is one of my favorite J-pop CD's.