I never really followed the price development of the market for rare Japanese photobooks. But I remember that once a collector told me that the price for rare Japanese books goes up by 100 $ every month. But this was before the financial crisis began.
The blog DLK COLLECTION just posted an overview of the results of the 'Photobook' auction at Christie's, South Kensington, May 21:
The results of the recent Photobooks sale at Christie's in London were considerably stronger than the other photography-related book sales this season. While I don't have access to historical photobook auction records, according to Christie's, the inscribed Frank [The Americans] likely set a record for a regularly-published (not special or limited edition) postwar book, fetching a hefty £43250 ($62,194). Photobooks by Henri Cartier-Bresson and Richard Prince also soared to big prices. Overall, the buy-in rate was solid (just under 28%) and the total sale proceeds covered the total High estimate.
[Quote: DLK COLLECTION]
This prompted me to have a closer look at the results of the Japanese photobooks included in the auction. Kikuji Kawada's "The Map" became the 5th most expensive book and Araki's extremely rare edition of "ABCD" (20 copies) made the 9th place on the list, closely followed by the two 'Workshop' portfolios (place 11 and 12) and Yutaka Takanashi's "Toshi-e" (no. 14).
Here are the results for Japanese photobooks:

KIKUJI KAWADA
Chizu — The Map. Designed by Kohei Sugiura. Tokyo: Bijutsu Shuppan-sha, 1965.
$17,975
.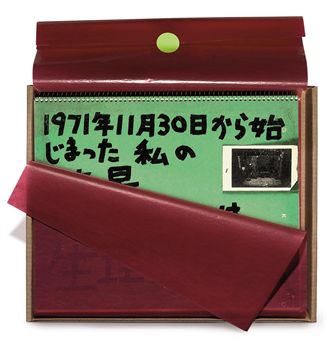 NOBUYOSHI ARAKI
ABCD. New York: PPP Editions, 2003.
$11,684
.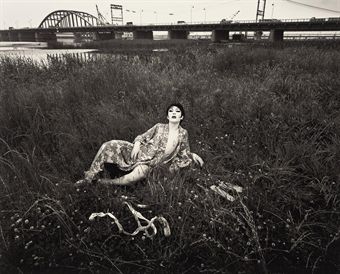 WORKSHOP
Portfolio One. Tokyo: Eikoh Hosoe Portfolio, 1975.
$10,785
.

WORKSHOP
Shashinshu Dai 1 [2] go — Photo-album Volume 1 [and 2]. Tokyo: Workshop, July and October 1974. [With:] Moriyama Daido to 16 Nin no Otokotachi — Daido Moriyama and 16 Men. Workshop, 1976.
$9,886
.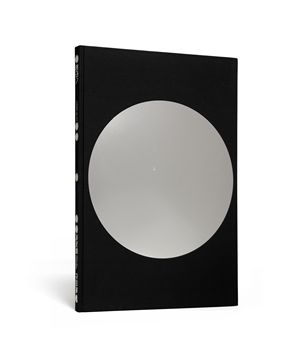 YUTAKA TAKANASHI
Toshi-e — Towards the City. Tokyo: for the author, 1974.
$7,550
(More on Yutaka Takanashi in my next blog post.)
.

SHOMEI TOMATSU
11:02 Nagasaki. Tokyo: Shashindojinsha, 1966.
$7,190
.

MASAHISA FUKASE
Karasu — Ravens. Tokyo: Sokyusha, 1986.
$5,393
(Fukase's book "Ravens" was recently selected as the best photobook of the last 25 years. See my previous blog post.)
.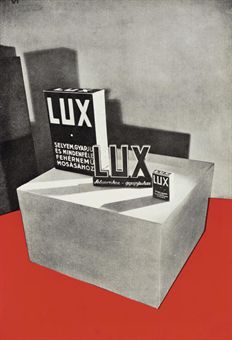 SHIGENE KANAMARU (ed.)
Shinko shashin no tsukurikata — The Making of Modern Photography. Tokyo: Genkosha, 1932.
$5,393
The translation of the book title is wrong. The correct translation is
"How to make New Photography".
Shinkô Shashin is a central term of the Modern photography in Japan. The term Shinkô Shashin (= New Photography) was used the first time in Japan in 1926 for the newly founded photography club "New Photography Society" (Shinkô Shashinkai), but at that time it did not have clear definition.
Shinkô Shashin got its real meaning in 1930 when Sen'ichi Kimura – publisher of the "Phototimes", one of the leading photography magazines at that time – founded the photography club "New Photography Research Society" (Shinkô Shashin Kenkyukai). Kimura and his colleagues used the term Shinkô Shashin as a direct translation of the German term New Photography (Neue Fotografie). Since then the term has been associated with the Japanese Avant-garde photography which was highly influenced by photography from Germany, especially by Laszlo Moholy Nagy and Albert Renger-Patzsch.
.

DAIDO MORIYAMA
Shashin yo Sayonara — Bye Bye Photography. Tokyo: Shashin Hyoron-sha, 1972.
$4,314
.

KENJI KANESAKA (editor)
Underground Generation. Tokyo: Novel Shobo, 1968.
$3,595
.

SHOMEI TOMATSU
OO! Shinjuku. Tokyo: Shaken, 1969.
$2,876
.

KISHIN SHINOYAMA
Hareta Hi — A Fine Day. Tokyo: Heibon-sha, 1975.
$1,798
.

SHOMEI TOMATSU
Nihon — Japan. Tokyo: Shaken, 1967.
$1,618
.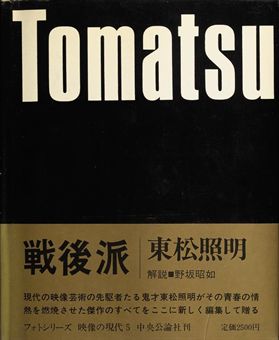 SHOMEI TOMATSU
Sengoha — Après Guerre. Tokyo: Chuo koronsha, 1971.
$1,168
.

HIROSHI HAMAYA
Yukiguni — Snow Land. Tokyo: Mainichi Newspapers, 1956.
$899
.

FUMIAKI FUKUDA
Where is '69 Shinjuku Kaminori Zoku. Tokyo: Daikan Shokan, 1980.
$809
.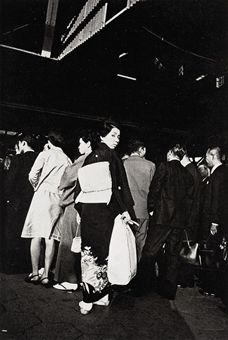 SHIGEO GOCHO
Hibi — Day to Day. With Masao Sekiguchi. Tokyo: for the authors, 1971.
$719