In 2003 the "Regionale 2004" a project by North Rhine-Westphalia (a federal state in West Germany) commissioned Naoya Hatakeyama to document the defunct coal mine "Zeche Westfalen I/II Ahlen".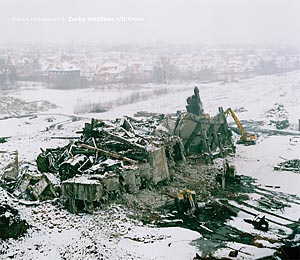 From October 2003 to February 2004 Hatakeyama photographed the sites and structures that were home to tens of thousands of workers for over a century. The series, which I have not seen yet, neither on the wall nor in the book with the same name published just recently by Nazraeli Press, is on display at Taka Ishii Gallery in Tokyo.
It seems that Hatakeyam kind of returned with the following series to a topic with which he 'blasted' into the Japanese photo scene in 1995, literally.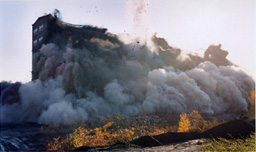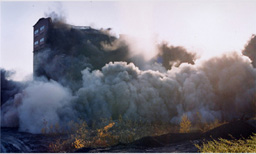 "Could you take a photograph of a building that is scheduled to be torn down?"
The request sounds like: "Could you take the portrait of a person who will die soon?"
Just as a portrait of a deceased person is needed for people to reminisce about that person, an architectural photograph is needed to reminisce about a building which no longer exists.
Another sense of nostalgia always comes to mind for the photographer who takes such a photograph; the nostalgia for the original role of photography,
"to serve to the memory of human beings," requested simply of him. He does not know why, but it makes him feel nostalgia for this.

"Record" is always based on the premise of a vision that comes from the future.
The photograph is like a boat carried to the future endlessly even if the vision one sees comes from the past. I think as this way; "Record" belongs to the future, not to the past. Otherwise I cannot understand the reason why I always
have a feeling of hope on my fingertip when I release the shutter.
[Quote: Naoya Hatakeyama]
[Addendum:]
Currently Naoya Hatakeyama has another exhibition in Tokyo area:
"Two Mountains" together with the Swiss photographer Balthasar Burkhard. This is a commissioned work too about Swiss and Japanese mountains exhibited at the new constructed private Tokyo Art Museum (architecture by Tadao Ando).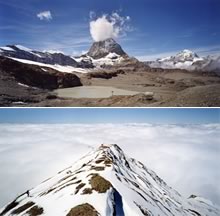 all photos: Naoya Hatakeyama
———
Recommended books:
Naoya Hatakeyama: Zeche Westfalen I/ II Ahlen
Naoya Hatakeyama: Two Mountains